Dear Panel Members,
Once again, the Cleveland Hungarian Development Panel has the honor to be the Community Partners that help promote the Hungarian film, "It's not the time of my life" (Ernelláék Farkaséknál).
Please visit the link to the film at

http://www.clevelandfilm.org/films/2017/its-not-the-time-of-my-life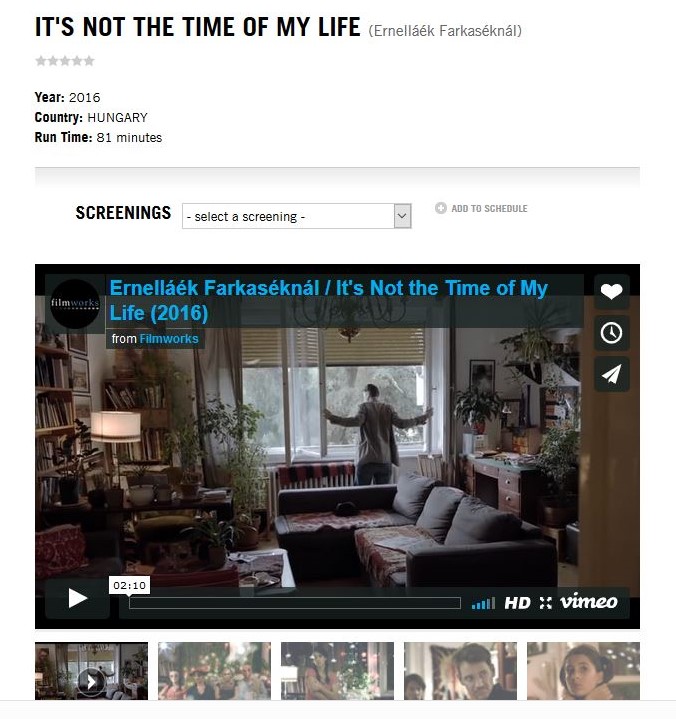 You will note our logo and a link to the CHDP website at the lower right hand side of the film's web page.
There are two screenings of the film,
Tower City Cinemas
Friday, April 07, 2017 at 6:20 PM
Sunday, April 09, 2017 at 9:10 AM
Ticket prices for the general public are
$14 Cleveland International Film Festival Members
$16 Non-members
$14 Students and seniors (in-person only)
However, CHDP members get a discount of $2  off these ticket prices if you purchase your tickets and use our discount code (which conveniently is CHDP ):
This discount is good for any standard Festival film screening. Restrictions apply for special events.
Online: Use the code CHDP when purchasing tickets at www.clevelandfilm.org (available 24 hours a day).
Phone: Use the code CHDP when calling the Film Festival Box Office at 877.304.FILM (3456).
In-person: Use the code CHDP at the Film Festival Box Office in the Tower City Cinemas lobby.
Store Hours for the CIFF Box Office, which is located inside the Tower City Cinemas lobby:
March 17 to March 29: Monday – Saturday, 11 a.m. – 7 p.m., and Sunday, 12 p.m. – 5 p.m.
March 30 to April 9: Sunday – Thursday, 8:30 a.m. – 10 p.m., and Friday – Saturday, 8:30AM – 12 Midnight
Sunday, April 9: 8:30 a.m. – 7 p.m.
Visit www.clevelandfilm.org for CIFF41 program updates (late addition films and added screenings).
Enjoy the movies!
Elizabeth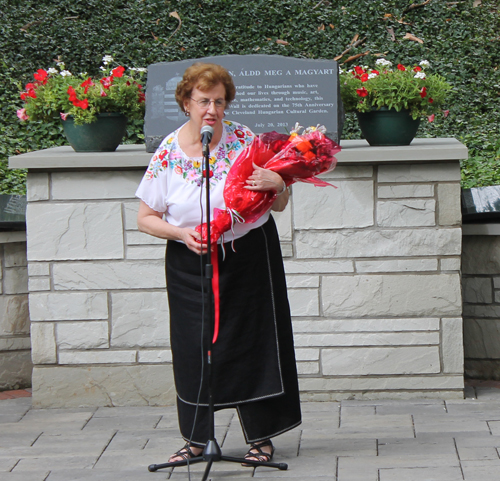 Carolyn Balogh will be inducted into the Cleveland International Hall of Fame on Tuesday April 26, 2016.
Inductees must have made significant and lasting contributions to one or more ethnic communities in Cleveland or to the overall ethnic diversity in the community.
Over 150 nominations were received this year and Carolyn and 6 other outstanding individuals will make up the 2016 Class.
The 2016 Class will be (in alphabetical order):
·        Dr. Mohan Bafna
·        Carolyn Balogh
·        Arnie de la Porte (posthumous)
·        Jack Kahl
·        Rev. Mikhail Mikhail
·        Khalid Samad
·        Eugenia Stolarczyk
Everyone in the Hungarian community knows Carolyn and her tireless work.  She has been a leader in the Cleveland Hungarian Development Panel, Hungarian Cultural Garden, Hungarian Heritage Society and much more.    You may not know that Carolyn was also instrumental in the creation of El Barrio to meet the needs of a growing Hispanic population on the near west side of Cleveland. Carolyn will be inducted by Dr. Maria Pujana (Colombian, born in Spain)
The dinner ceremony will be in the Grand Ballroom of the Marriott at Key Center downtown and doors open at 5.  The event always sells out (500+) so get your tickets soon.
Now is the time to place a message of congratulations to and support of Carolyn in the program book and/or sponsor a table.  Contact Debbie Hanson at 216-406-6594 or deb@ClevelandPeople.Com.

NOTE: Carolyn will be the 3rd Hungarian inducted into the Cleveland International Hall of Fame.  She will be joining Jenny Brown (2010 Class inducted by Edith Lauer) and Ernie Mihaly (2014 Class inducted by Richard Fleischman).  Ken Kovach (2012 Class inducted by Dick Russ) is half-Hungarian.

http://clevelandinternationalhalloffame.com/

Congratulations Carolyn!